The V Series offers traditional styling with smooth, clean lines, and many different options to meet your needs. This model is the right choice for customers who want quality and function, without breaking the bank. The side tool box option is a great addition for any contractor.
The Z is engineered to provide the best fit and styling. Our frameless door with contour strip paired with the screen vent side windows will give your truck a sleek SUV look. Add the optional keyless entry and you will be able to effortlessly lock and unlock your cap with your trucks key fob.
Z2
Featuring our exclusive urethane side window technology, the sleek and stylish Z2 will radically transform the look of your truck. Customize the Z2 with popular options like keyless entry and roof racks to meet your needs.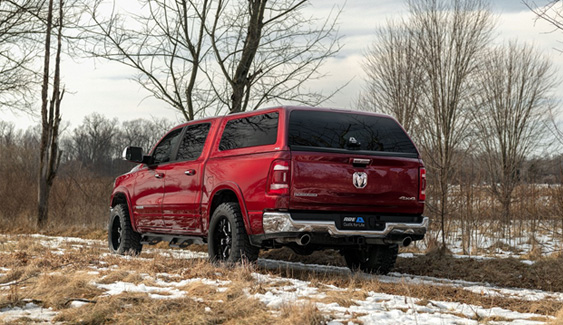 Trimless edges give a sleek and stylish look, while the fiberglass contour strip at the bottom of the door matches perfectly to your trucks tailgate.
Urethane window technology allows for our new side windows to bond directly with the cap, eliminating unsightly screws and metal frames. This technology also provides a water tight seal.
Z2 rear door features heavy-duty c-hinges and our slam latch system. Add our keyless entry for optimal security.
The Overland Series truck cap offers a tougher, more rugged look to complement today's trucks. It's unique two-toned off-road design features a spray-on protective coating which increases strength in high stress areas.
The MX Series' mid high roof provides more headroom and storage capacity, while offering easier access to your gear. The exclusive walk-in door option provides effortless access plus better line-of-sight for users who pull trailers or boats.
The steady rising design of the TW Series takes full advantage of the capacity of your truck bed. Maximum head room, easy access, and aerodynamic styling make the TW Series perfect for hauling gear while providing efficient airflow up and over any camper, trailer, or boat.
The OTR Option is available on any fiberglass cap or tonneau cover. The durable spray-on protective coating turns your A.R.E. product into the ultimate complement to today's trucks.
The ToolMaster Series by A.R.E. offers a true fiberglass commercial cap solution. It is rugged and reliable, featuring heavy duty doors and toolboxes, along with a commercial grade ladder rack. At the same time, the ToolMaster Series offers the styling and finish that only a fiberglass truck cap can provide.
There has never been a stronger more durable fiberglass truck cap than the new HD Series. Available for the CX and MX Series cap profiles, the HD Series features an internal skeleton which triples the weight capacity of the roof rack and side toolboxes. If you test the limits of your truck, and need your cap to be up for the challenge, the HD Series truck cap is the only choice!
Commercial Aluminum
Get to work with an A.R.E. commercial aluminum cap. Our rugged welded frame construction offers years of durable service, no matter what the weather or job. Choose between our DCU ® (.035 aluminum skin), DCU MAX ™ (.063 aluminum skin) or our Diamond Edition DCU ™ (.063 diamond plate aluminum skin) to outfit your truck. Each of our commercial aluminum models has weather-sealed doors with gas props, heavy-duty hinges, and locks to protect your valuables.
The LSII Series offers truck specific styling, premium components, and a unique lift assist system for user friendly opening and closing. This industry leading tonneau cover is a best seller, and for good reason.
The OTR Option is available on any fiberglass cap or tonneau cover. The durable spray-on protective coating turns your A.R.E. product into the ultimate complement to today's trucks.
Our newest cover, Fusion™, provides you with a paint-to-match finish in a tri-fold cover. Fold the panels open for quick and easy full bed access or keep them closed for added security and styling.
Standard Features
Tri-fold cover
Paint-to-match panels
Carpeted under panels
Low-profile design
Universal tailgate operation
L-rail for quick and easy install
Battery operated LED ligh
The A.R.E. Ascend roof basket is the perfect complement to today's trucks and any of our truck caps. Mounted directly into our track system, there is no need for additional cross bars. The basket is made of aluminum and has a black textured powder coat finish. Add lights easily with the 360 degree attachment points.