Full Size Trucks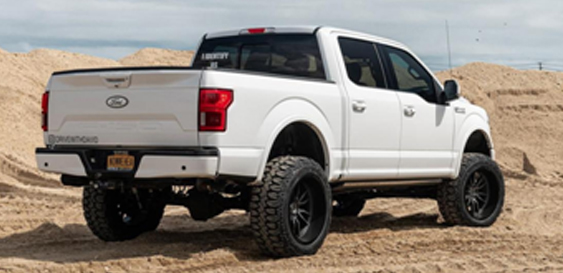 Mid Size Trucks
SUV
TIRES
Mud Grappler
Extreme Mud Terrain
For when you must clear that obstacle or forge that path, no matter what the terrain's condition.
Trail Grappler
Mud Terrain
Don't let anyone tell you that you have to sacrifice off-road prowess for on-road comfort.
Ridge Grappler
Hybrid Terrain
We combined the best of both worlds from our mud-terrain and all-terrain product offerings.
Recon Grappler
All-Terrain
Combines versatility and distinctive design into an all-terrain tire that stands out from the crowd.
Terra Grappler G2
All-Terrain
An everyday tire should be able to meet every day's adventures, no matter whether they're on pavement or dirt.
NT420V
LOOKS, MEET PERFORMANCE
The eye-catching asymmetrical tread pattern creates two distinct zones for both dry handling and wet performance, while also enabling cross-rotation for longer tread life. The result is a high-performance, attention-grabbing tire that is a great choice year-round.
The Open Country M/T is legendary for durability, off-road performance, long tread life, and an aggressive tread pattern. It's designed to help trucks work hard on pavement and then work just as hard when roads are muddy, snowy, and rocky — or when there are no roads at all
Off-road performance meets on-road comfort with the Open Country R/T. Built rugged for any terrain, this powerful 4×4 tire offers excellent off-road traction, durable construction, and aggressive styling. Its ability to tackle dirt, sand, and rocks is inspired by the legendary Open Country M/T, while its quieter ride is a nod to our best-selling Open Country A/T III.
The Open Country A/T III all-terrain tire delivers gripping off-road traction with responsive and predictable on-road handling. With a strong focus on wet performance, durability and treadwear life, Toyo introduces advances in tread design, construction and all-new tread compounding. It also provides a quiet ride with exceptional stability. The Open Country A/T III is built to get there and get back home, regardless of terrain or weather. Available in LT-Metric, P/Euro-Metric and Flotation sizes.
The Proxes ST III is the perfect balance of dynamic looks and sport-oriented performance for trucks and SUVs. With a wider tread and a silica-based tread compound the Proxes ST III stops up to 6 feet shorter in wet conditions* while delivering superb handling, excellent all-season performance, consistent wear and a smooth, quiet ride, now backed by a 40,000-mile warranty.